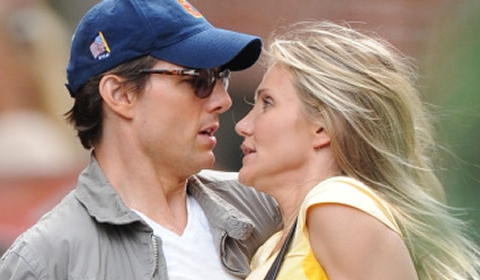 UK newspaper The Sun is reporting that Tom Cruise and Cameron Diaz will race the reasonably priced car in the next episode of Top Gear. The two movie stars will drive the new the Kia Cee'd around the track promoting their latest movie, called Knight and Day. A show source said:
We've had some big names tearing around in our reasonably priced car, but Tom has to be up there as the biggest. And the amazing thing is his people contacted us. Tom and Cameron are over in Britain for the premiere of their new movie Knight and Day. Tom knew we were filming so asked if he could give the old Kia a whirl. Cameron was up for it too so we're getting two A-list stars for one show. Jeremy Clarkson and the boys couldn't be happier.
Tom will hope to eclipse Harry Potter star Rupert Grint as the fastest star to lap in the Kia on the BBC2 show. According to the Dailymail, Miss Diaz broke the clutch of the brand new Kia. She was rescued by the Stig, who came to her aid in the new Jaguar XKR Black and Speed Edition.
Tune in next Sunday on BBC Two at 20:00 BST in HD to see their laps and final results.