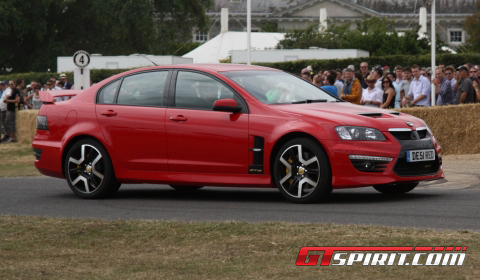 Straight from Australia we spotted the brand new 2011 Holden Commodore GTS E2 at Goodwood several weeks ago. Amazed by the car were not immediately sure what it was. It now seems that we have witnessed the hill climb of the 2011 model.
The specs list of the car include a top speed of 250km/h (155mph) and an improved sprint from zero to 100km/h (62mph) in 4,9 seconds. The power comes from a bigger 6.2 liter 16-valve V8 engine producing 424bhp at 6000rpm – a 13bhp increase – and a maximum torque of 405lb/ft at 4600rpm. All the power is converted to a six-speed automatic gearbox or manual gearbox with new launch control system.
The car is loved by fans of true Aussie muscle saloons. The 'E2' received a new front end, 20-inch HSV alloys and daytime running lights. According to Autocar, also the suspension settings have been revised and adaptive dampers are added to the spec list.
Prices are not available at this moment. Stay tuned for more soon!