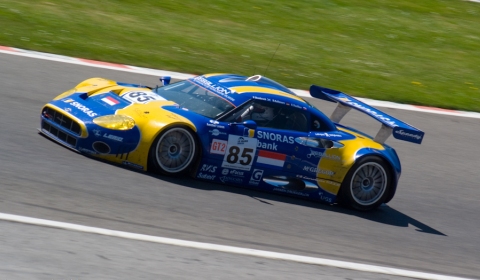 Spyker Squadron will start today Le Mans 2010 in the GT2 Class. GT2 is stronger than ever before and will see eighteen cars with top drivers racing each other. Aston Martin, BMW, Corvette, Ferrari, Jaguar, Porsche and Spyker will all be racing at Le Mans this year.
On their Vimeo channel we spotted two videos following the 2010 Spyker Squadron. They include the signing session, the parade, onboard and qualifying with comments from the drivers Tom Coronel, Jeroen Bleekemolen and Peter Dumbreck.
At Le Mans the Spyker Squadron Spyker C8 Laviolette GT2R will be running its blue and yellow livery again and not the black and red livery it uses in the Le Mans Series.