The Russian Prombron 'uber luxury' Kombat T-98 made by Dartz makes the baddest Hummer look like a first generation WWII jeep in comparison to it. Dartz is known for its extravaganza and creation of this kind of unique armored vehicles.
Actually all cars are being marketed under the Prombron name, backed by investment from parent company Dartz from Riga, Latvia. Prombron – formerly known as Russo Baltique – is ran by Leonard F.Yankelovich a.k.a. LEO'n'DARTZ and builds armored cars from the late 1910 period for Czar's and Communist dictators, like Tsar Nicholas, Vladimir Lenin and Leon Trotsky. Their first armored car was being produced in 1912 so its new line-up is a fitting modern day re-incarnation.
For those customers who choose to buy an armored truck are keen on their security and well being protected against any possible threat. Driving an armored car should give you a save and secure feeling. So a drive in a Dartz Prombron Wagon on the roads near La principauté de Monaco should give a decent look into the experiences of the owners and their security issues.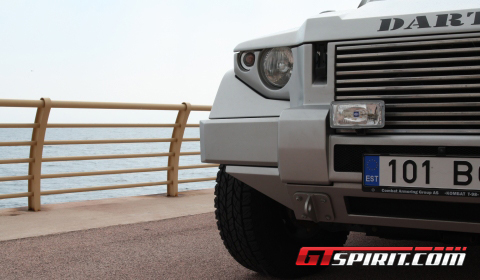 The Dartz Prombron Wagon has been noted as one of the fastest multi terrain armored vehicles in the world. Under the hood it boasts a 8.1 liter engine and made with parts courtesy of General Motors. The first comparison you will make is with the Hummer H1, because it is often considered to be the most known multi-purpose SUV in the world. Coincidentally, the Hummer brand is also associated with GM. However, the brand has stopped production and killed any future opportunity leaving the way open for others to step in. For us, it stayed unknown how much they have in common, but similarities to all type American SUV were noticeable.
The available option list is long and extensive. Two versions are available; hardtop and wagon version. The last one has space for five or seven places and includes two doors on each side and a large door giving access to the cargo compartment. The engines on the list are a Vortec 6000 V8 with 360hp, a Vortec 8100 V8 with 400hp and 850Nm of maximum torque and a 6,6 liter V8 Duramax diesel engine producing up to 360hp and 980Nm of torque at 1800rpm. All good for a top speed of 180km/h. Converting this amount of power to the road is done via a six speed automatic transmission made by Allison.
The chassis and cabin are completely hand build within the factory of Dartz. The armored truck has a set ventilated front disks measuring 325mm х 38mm and ventilated rear disks 325mm х 30mm, a petrol tank of 105 liters, a hydro powered steering management system, an independent front suspension with torsion bar and stabilizer and multileaf springs rear suspension also with stabilizer. The bulletproof and all-terrain tyres size 315/70 R17. As option Pirelli 325/60 R20 wheels are available. Xenon headlights are available as well; same goes for xenon anti-fog lights and additional front lighting.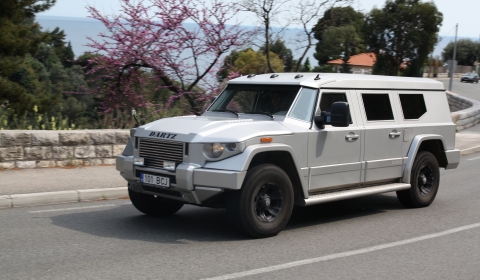 Dartz offers three different protection levels; B2, B6+ and B7+. The different levels of armor protect the people inside the vehicle against attacks with normal pistols like a Glock or Magnum up to an AK-74 Kalashnikov or G3 7.62 rifle shooting 7.62mm bullets. Steel plated doors and seven centimeter thick windows will withstand attacks by both bullets and rocket grenades. The protection comes at a cost. The total curb weight of the armored truck is a whopping 3550kg up to 4550kg depending on model and protection level chosen by the customer.
The driving characteristics of the SUV are similar to a tank finding its way through a dense populated area. It is bulky, large and heavy, not suited for a daily use in smaller cities. It poses problems on many fronts, from the obvious drain on fuel mileage to the more mundane trickiness of parallel parking or driving into a tight parking garage entrance. The Dartz armored truck is surely not your every day drive to the shopping mall, more like means of protected transportation for longer routes.
The simple and clean interior of the Prombron has a number of options as well. There are airbags for the passenger, climatic control with dual zone control, a central locking system, driving information center, custom made interior design dashboard with eight inch monitor, full leather interior and eight-way power front seats with memory and heating. If requested, a six video camera system and front and rear hoist can be installed. Overall, we didn't spot any sign of exclusivity inside the interior of the test vehicle. The overall feeling was rather basic.
The Dartz Prombron Monaco Red Diamond Edition is the ultimate in over-the-top SUVs and was introduced in Monaco a few months ago. The unique one-off tank truck includes bulletproof wheels, a tungsten exhaust, white gold gauges coated in gems, and a Rogue Acoustic Audi System. The setup comes at a price of between € 750,000 and € 1 million. Purchasers will be rewarded with three bottles of the world's most expensive vodka, named after the makers RussoBaltique. More information on this special vehicle can be found here.
The Dartz Prombron Wagon is a true vehicle for the happy few in need of immediate security while driving. Do not look at the price nor the fuel mileage. This armored vehicle is only mend to take you from A to B with a predefined kind of protection. Exclusivity regarding its task, power and presence are included; exclusivity with respect to the looks, the interior and standard available setup is something dating back to the previous century. So at least make sure if you get one of these you take notice.