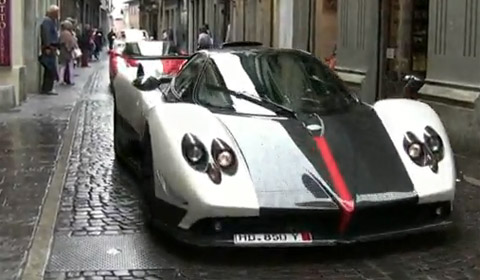 Every year Horacio Pagani hosts a meeting for Pagani owners and friends called 'The Vanishing Point'. Yesterday our friend Matteo of Italiansupercars.net was present at the town of Cividale del Friuli in Italy and made a great video of the Pagani's and other exotics that joined the 6th annual Pagani Vanishing Point gathering this year. Sadly the weather spoiled the gathering a bit as the display at the main square was cancelled.
The video shows the spectacular Pagani's touring through the town. Most present and past Pagani's were present including Zonda's, like the S, F, Roadster and the last incredible powerful Zonda Cinque. As you can see in the video below there were also some other exotics like a red Ferrari Enzo, a Ford GT40 in Gulf colors and a brand new Mercedes SLS AMG!
Also see our story and photos of the 5th annual Vanishing Point gathering held last year!