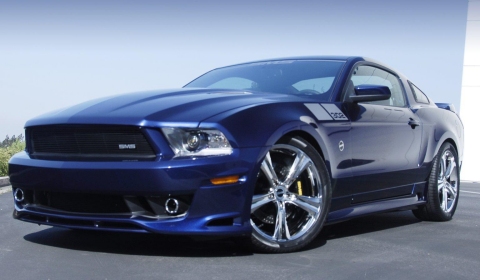 Steve Saleen's SMS Signature Series has revealed its second release of a tuned vehicle. The 2011 SMS 302 Mustang represents the second in the trio of SMS American Supercars, which will be followed by the introduction of the 2011 SMS 620 Camaro later this year.
At first, two SMS 302 versions will be offered, the SMS 302 4V with a normally aspirated 5.0 liter engine producing 440hp and 400lb-ft of torque, followed by the SMS 302 SC, using the patented SMS 296 SuperchargerTM. The SMS 302 4V improvement is accomplished with an all-new four-valve head design, a high flow exhaust system, an optimized pulley drive system, premium fuel calibration and performance filtration. The SMS 302 SC will do over 535hp and 450lb-ft of torque. Transmission options for both are a six-speed automatic or a 6Speed TR3650 manual.
The 2011 SMS 302 4V will accelerate from 0-60 in under 4.5 seconds and pass the quarter mile in 13.5 seconds at a speed of 116mph. The SMS 302 SC numbers are more impressive with a 4.3 second 0-60 and a quarter mile in 12.1 seconds at 119mph.
Both SMS 302 models come standard with the new and unique SMS S4 high performance suspension and are outfitted with Pirelli PZero 275/35ZR 20 tires on 20×9 inch 5-spoke alloy wheels at the front and 275/40ZR 20 tires on 20×10 inch 5 spoke alloy wheels at the rear. Stopping power is ensured via brakes with ABS cross drilled rotors, powder coated calipers and high performance racing pads.
Exterior changes include a new front fascia, side skirts, and at the back, where a new rear diffuser sports an F1 rain light. Inside, Alcantara and leather SMS performance seats with the patented signature series chevron stripes, two-tone leather chevron door inserts, a leather-wrapped billet aluminum shift knob and leather wrapped steering wheel set are installed.
Instrumentation features a 200mph gauge cluster and a supercharger gauge pod with boost and charge air temperature gauges for the SMS 302 SC. Standard features include also a color keyed center console, a powerful Shaker 500 stereo with Sync and a 276watt amplifier, aluminum SMS door sill plates and embroidered model designated floor mats to give the interior its finishing touch.
The US tuner offers its customers a wide range of tailor made options, including a dozen unique show car paint colors or interior trim.