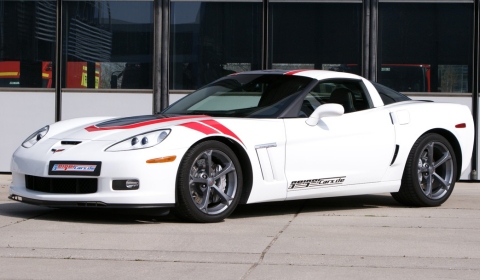 With the LS3 V8 under the bonnet, and the corresponding 430hp and 575Nm of torque, the Grand Sport is one of the most potent Corvette's available. The German tuner GeigerCars added a supercharger with a 2.3 liter capacity to the eight-cylinder engine. The results are 588hp at 6,490rpm, torque of 738Nm at 4,030rpm, sprint to 100km/h in less than four seconds, and a top speed of 337km/h.
The Grand Sport got wider front and rear fenders with additional vents, to accommodate the larger brakes of the sister model Z06 with its 355mm, six-cylinder discs at the front axle, and 340mm, four-cylinder discs at the rear. The front diffuser and larger rear spoiler are also borrowed from Corvette Z06.
Sway bars, shock absorbers and springs have also been overhauled in addition to the six-speed transmission, while a dry sump oil system and differential cooler are also on board. The battery of the Grand Sport has been relocated to the rear. Optimum road contact is guaranteed by the 18 and 19 inch light alloy rims, with 275/35 and 325/30 tyres.
Special factory-installed emblems on the front fenders and graphics applied to the fenders, bonnet and boot lid complement the package.
Pricing for the kit is € 66,900 for the base model. The performance upgrade goes for € 16,450 and the modified transmission ratio is € 2,800. Other prices are not available. Please contact GeigerCars for more information.