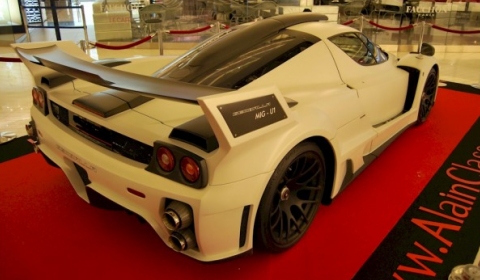 The Gemballa MIG-U1 – based on the Ferrari Enzo – is currently on sale on Jameslist.com. The Car Experience from Toronto, Canada offers the supercar with its V12 engine and a semi-automatic gearbox producing 700hp. Limited to only 25 it does 0-60 in 3.2 seconds and has a top speed of 218mph.
The Gemballa MIG-U1 based Ferrari Enzo features a front skirt that has a spoiler lip adding 77lbs of additional downforce, door extensions to the diffuser and rear spoiler, a rear flap that lowers itself at speeds of 75mph, and an optional electro-hydraulic height adjustment that can lift the car up by 1.7 inches is available. The car that is offered for sale is not the MIG-U1 with white with red interior that only serves as illustration. The advert says the MIG-U1 has only 13 miles on it and as there's only one MIG-U1 in the world at the moment likely to be build new for the client. The price is only available upon request, but after taking a look around, we found Ferrari Enzos at a price range of $1.1-1.8million (US). Of course, those weren't tuned by Gemballa.
Gemballa has drastically re-engineered the aerodynamics. The front spoiler lip generates an additional downforce of up to 35 kilograms at the front axle, the newly designed rear spoiler generates as much as 85 kilograms more downforce on the rear wheels. The spoiler's flap lowers when the MIG-U1 reaches a speed of 120km/h. But there is more, a air duct system providing cooling air to the passenger cabin, the brakes and the engine.
The MIG-U1 has grown broader by 80 millimeters at the front and 100 millimeters at the back axle. An optional electro-hydraulic height-adjustment (HLS) is available lifting the body by 45 millimetres at the front- and rear axle. By pushing a button or by reaching 80km/h, the MIG-U1 lowers itself to its original level. The handling and driving comfort is finished by adding a multiple adjustable sports suspension.
The forged wheels Gemballa GTR Racing are made from a massive light alloy block. At the front, the 10×19 inch rims hold tyres in the dimension 265/35, while the back axle transfers the power of the engine through 13×20 inch rims with 335/30 tyres.
The twelve cylinder engine gets an optimized motor management and a specially adjusted exhaust system creating a performance output of 515kW. The four-pipe system with pneumatic flap control is added to the sports catalyst and the final part to the technical package.
The car is on sale via Jameslist. Interested click here!