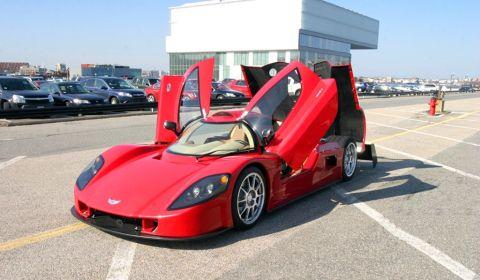 Rapier Automotive, based in Boston, USA, has created a competitor for the Aspira F620 and it is definitely worth some attention. They have been working on the vehicle for more than five years. Rapier has started taking orders for their mid-engined supercar.
The reason it took so long to create the Rapier, which is named the 'SL-C Superlite Coupe', has probably a lot to do with the fact that it is completely hand-built and customizable incluiding the choice between several different powerplants, colors and interior options.
Under the hood you can choose between three Chevrolet-derived engines. The engine choice includes a 6.2 liter LS3 V8 producing 480bhp, a 7.0 liter LS7 V8 running 505bhp and a range-topping supercharged 6.2 liter LS9 V8 with a stunning total of 638 horses.
In all three options the power is sent to the rear wheels via a six-speed Ricardo manual transmission, creating a sprint from zero to 100km/h (62mph) in less than 3.0 seconds. The Rapier SL-C Superlite won't stop sprinting before reaching 355km/h (222mph).
The car can be yours for $ 179,000 (€ 133,000 – £ 117,000). When you still have your doubts, just step through Rapier's door and ask for a test drive in Boston.