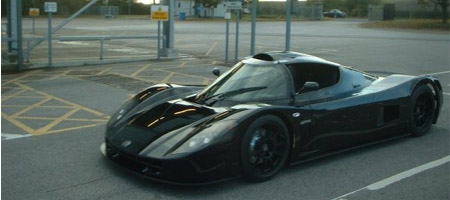 Today PistonHeads spotted a new supercar by the relatively unknown car manufacturer Aspira, undergoing vehicle-approval testing in the UK. The Aspira F620 was caught at Leighton Buzzard IVA centre, hoping to gain low-volume full production status.
Not a lot is known about the Aspira F620 or the company, but according to PistonHeads, Aspira have managed to get 538bhp out of their 6.2 litre LS376 GM V8 engine, with a maximum speed of 209mph. The F620 also comes with a six-speed Graziano gearbox, full integral roll cage, custom leather interior and ceramic brakes. The car is loosely based on a kit car produced by US company Race Car Replicas.
It is rumoured that Aspira will aim to make ten cars a year with the price starting at £110,000, which would put the F620 in the same market as the Ultima GTR and Mosler's.
[Via PistonHeads]