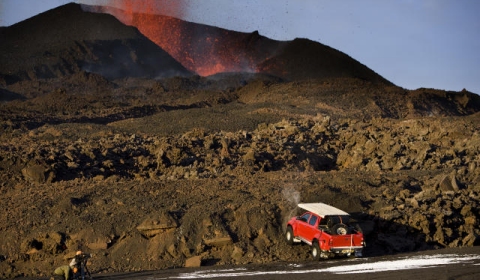 Top Gear is coming back soon. Season 15th is in the making. James May, Jeremy Clarkson and Richard Hammond were caught filming on the slopes of an erupting Icelandic volcano.
They modifyied the truck which they used during their arctic voyage and outfitted it with water-cooled tires and a roof-mounted ash-guard. They drove the vehicle from Reykjavik to the top of the caldera.
Haraldur Sigurdsson, a volcano expert who accompanied the Top Gear team, said:
These used a tuned arctic truck. The same one they drove to the North Pole. They changed it to cope with the volcanic eruptions. A water cooler was installed so that they could drive over the hot lava. It worked well and was a little experiment. They also protected themselves against the ash fall.
You can read the full translated story here.
[Via Autoblog.com]