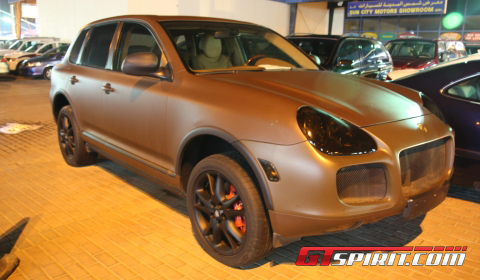 We spotted this "wonderful" Porsche Cayenne Turbo at the Al Aweer Used Car Complex in Dubai. It's not the first customized vehicle from the Gulf region that made it into our overkill and we are quite certain that it won't be the last.
The army coloured SUV got a very special body kit and darkened head and tail lights. The sales information for this car showed that the car had a "Golden" paint job. Rather interesting, because it looks more brown than gold. Perhaps the colour changes in the sun light, but we doubt that.
The vehicle is on sale via the Sun City Motors Showroom at Ras Al Khor industrial area. Would you buy it?