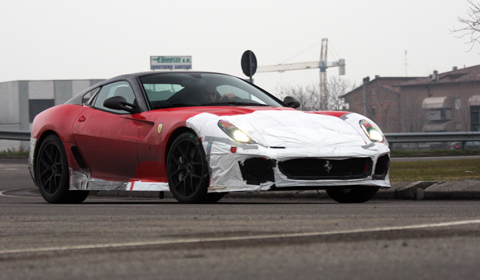 A few minutes ago we reported about the alleged first official photo. In the meantime the guys at Autogespot.com came across the price list of the brand new 'prancing horse'. The information follows after a series of spyshots unveiled over the past few weeks.
One thing is for sure the Ferrari 599 GTO is coming and the release is imminent. April 7th is rumoured!
According to the carspotting website, the main sales price starts at € 319,495. The options list includes accessories like four points seatbelts, a rear bench luggage set, brake calipers in numerous colours, carbon fiber front spoiler, dashboard with carbon fiber accents and racing stripes. You can even get a steering in the color of the car, historic GTO stripes and the choice for the colour setup from the 50's and 60's GTO range.
Just click on the price list for a bigger overview. All prices mentioned are without taxes!