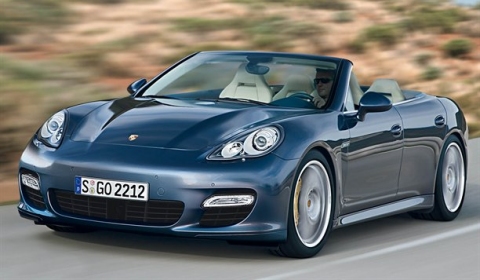 The Panamera is the second succesful move from Porsche to extend its line-up of vehicles beyond the 911. New drawings were revealed showing a four-door convertible version of the Panamera. We have seen other saloons going roofless before but the Panamera would a different class, because it might end up as the convertible car with four decent seats.
According to Autocar, the new vehicle has a practical four-door body that, without a traditional B-pillar, requires substantial stiffening to the Panamera's floorpan and bulkheads to ensure sufficient structural rigidity and integrity. Keeping the four-door layout allows the convertible to offer the same interior space as the saloon. The boot is likely to accommodate a roof made of fabric.
Also the front windscreen has been altered with greater rake. It also got additional supports within the small quarter windows low down on the A-pillar.