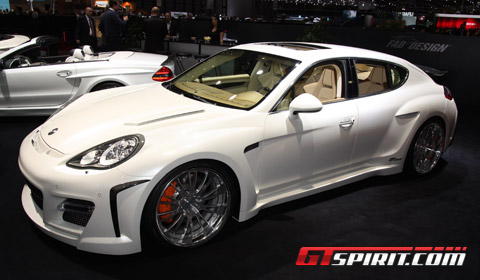 Following on FAB Designs developments for Mercedes-Benz vehicles, a new FAB Exclusive Line has been added by the Swiss tuning company. The setup includes tuning packages for other brands, previous projects include the FAB Design Maybach and McLaren SLR-packages. In Geneva FAB Design showed their first Porsche package as part of their exclusive line: the FAB Design Porsche Panamera.
The FAB Design Panamera includes a bodykit and new front hood completely made of carbon fiber. Biggest eye catcher that distinguishes the FAB Design Panamera from other Panamera's is the big carbon fibre rear wing. Additional modifications include new tail pipes and a new diffuser that improves handling. The Panamera displayed in Geneva sports 22 inch FAB Design wheels.
Obviously a big part of the FAB Design offering for the Panamera includes optical and exterior modifications but FAB Design also offers performance upgrades for the Panamera Turbo. A maximum output of up to 700hp is possible from the 4.8 liter turbo. Of course more power will also require better brakes to stop the big Panamera, FAB Design also offers a sports braking system and a lowering module.