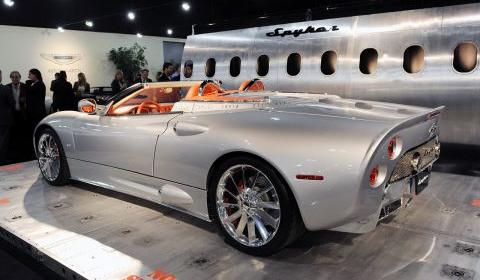 Readers from the US will probably know the name Galpin because it is a Mustang, Aston Martin, Jaguar and Lotus dealer in California. Earlier this week Galpin opened a new and for now only one in California, showroom for Spykers. This might be the second good step from the Dutch supercar maker after they saved Saab from dying.
Spyker is the definition of ultra-exclusive with extremely limited production automobiles with prices ranging from $210,000 to $280,000. That might explain why Spyker choose California to open its new showroom.
Beau Boeckmann, Vice President of Galpin Motors said:
We're very excited to have Spyker join our Premier Collection. Spyker's machine-turned touch-points and high-end design elements, to its aircraft-inspired styling, Spyker will bring a new dimension to our family of exclusive motorcars. We are dedicated to becoming the premier retailer for Spyker.

The design of the car is nothing short of extraordinary. Not only is there extreme attention paid to detail with hand-crafted parts from the finest alloys and materials, but its performance is breathtaking. In a world of cost-cutting and intensive use of plastics in automobiles, Spyker is a no- excuses automobile where every component is engineered to aircraft-type standards with jewel-like quality.
[Via Autoblog.com]