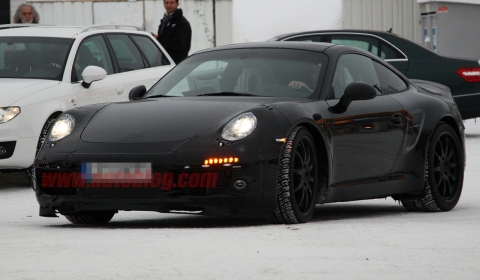 New information regarding the Porsche 911 998 have emerged after spyshots were shown some weeks ago. On the pictures we saw a refreshed design ment for 2011. Autocar says that the new 2013 998 Series is pictured and it will be officially introduced somewhere in 2012, replacing the current line-up of the 911. The design will not change that much, but as always Porsche designers will claim all the body panels have been re-designed.
The basis are some new steel and aluminium parts combined with parts used in the current line-up. The doors will be shared with the current cabrio version and other components from the Cayman and Boxster. All ment to keep the costs down.
The 998 model will be slightly longer and wider than the model it replaces and the spy shots show its wider track. Changes are incorporated to meet the latest crash regulations and to improve aerodynamics and driving dynamics.
Technical features will include an integrated torque vectoring system on four-wheel-drive models and a faster-acting limited-slip differential on rear-drive 911s. The 911 will get LED front and rear lights as standard.
Regarding the powertrain, Porsche will implement updated versions of the current 911's 3.6 and 3.8-litre flat sixes. Light-pressure turbocharging is being developed to boost efficiency, but these developments won't be seen until the 998 receives its facelift in the middle of this decade.
Easy noticeable on the spyshots we showed you before is the rear with its new wing. It uses the active technology seen in the Panamera. It will extend at high speed to boost downforce without impacting on drag.