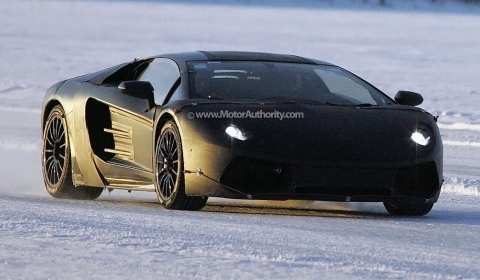 It is a known fact that a replacement for the Lamborghini Murcielago is on its way. Recent spyshots were the only thing missing, but MotorAuthority received some today. The Jota prototype shown on the shots, is undergoing testing in the snow.
Regarding the specifications there are a few things we can say. One of the biggest changes over the outgoing Murcielago will be the adoption of the Audi R8's aluminum spaceframe chassis as well as a carbon-fiber bodyshell. The styling also changed and has been influenced by the Reventon models and the recent Estoque concept car. The Murcielago's mid-engine layout will stay, but will be much lighter. Same goes for its wheelbase, similar in length to the Murcielago but its overhangs, both front and rear, will be much shorter.
On the subject of the engine Lamborghini will stay focussed to the V12 setup from its pre-decessor. An addition of direct injection technology should improve fuel-efficiency and power levels across the rev-range improving drive-ability of the supercar. Performance figures? Expect the same or higher figures as for the latest Murcielago LP670-4 SV. Somewhere around 700bhp is expected. To transfer the power to the road and the four-wheel drive system a dual-clutch transmission may also be offered.
The current 'Going-green' hype could also have its influence on the new Lambo. Hybrid powertrains are under discussion as well as fuel-saving engine stop-start and brake-energy regeneration technologies. Release? A 2015 launch for a hybrid Lamborghini would seem logical with respect to previous comments. The new Murcielago is expected for a 2012 release date.
[Photo credits to Andreas Mau @ CarPix]