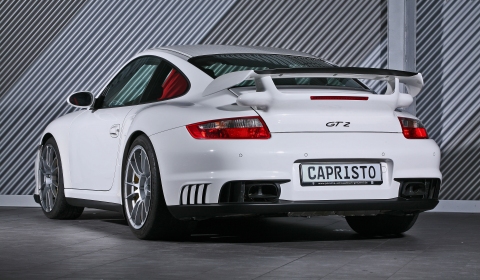 Capristo Exhaust Systems has introduced a new sport exhaust system for the Porsche 997 GT2 and the 997 Turbo. The system, made from stainless-steel, has a valve-controlled unit and is back pressure optimized. Next to it is streamline optimized and comes with two 200 cell metal sport catalysts (OBD suitable). The two ceramic-coated end pipes, milled from solid material, finish the looks the system.
Capristo has a programmable control unit also referred to as Capristo Exhaust Control Box available. The box is programmable via a remote control to fit the vehicle's or the customer's needs. It monitors the back pressure of the exhaust gases and makes sure the best possible performance is delivered.
An additional 60Nm – 90Nm and approximately 50hpincrease was measured in the lower range of rpm. In the upper range of rpm's it was an increase of approximately 15hp.
The Capristo sports exhaust system, including racing catalytic converters and a control unit, switches owner for €4,165.