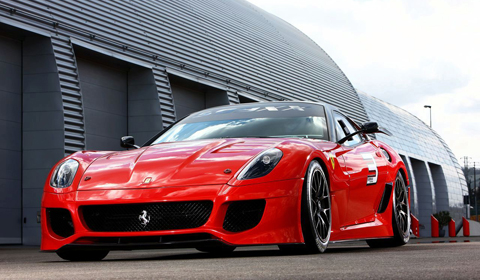 If we're to believe the rumours, Ferrari are preparing to revive the GTO moniker, read to apply to a hardcore version of the 599. Based on the track only Ferrari 599XX, the car will sit comfortably at the top of the Ferrari tree. The rumours come after Ferrari CEO Amedeo Felisa told EVO Magazine that the internal classification for the 599 recently shifted from 'GT' to 'Sports Car' division, creating the potential for such a project.
The move allows Ferrari's mechanics to tinker with the 599 in the same way that they did with the 430 Scuderia and its predecessor, the 360 Challenge Stradale. Further good news comes from the rumour that the 599 GTO would raise the bar considerably from the 599 HGTE revealed earlier last year.
Performance-wise we would probably be looking at around 700bhp which is a considerable 89bhp increase. 0-62mph (100km/h) could be achieved in 3.2 seconds with a theoretical top speed of 217mph. Another small detail will be the 6.0 liter V12's stunning 9,000rpm red line.
In terms of design, expect a lower look with styling descended directly from the classic 250 GTO and 288 GTO.
EVO are telling us that the United Kingdom would receive 50 cars, priced at £300,000. By our maths this would mean that upwards of 500 GTO's could be headed worldwide with prices around €333,893 or $480,077. Deliveries could start in May of this year leading us to think that the GTO could be seen at this March's Geneva Motor Show.