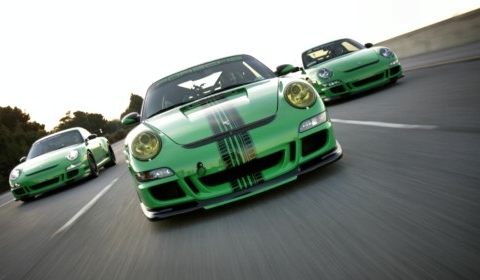 SharkWerks, US tuner of the Porsche GT3, has come up with a new Track Exhaust system, which has been designed, developed and tested on the SharkWerks 2007 997 GT3RS and 2010 997 GT3 shop cars. The exhaust was a request from several GT3 owners and reduces the weight in the rear by 57 pounds. The system uses two lightweight stainless steel race mufflers (each weighing two pounds) and three inch stainless steel piping. The entire system weighs eleven pounds.
With software only, the 2010 GT3 went from 392rwhp to 404rwhp at the peak and gained over 10ft-lb of torque at its peak around 6600rpm. Including the exhaust, the gains are even higher, bringing it up to 414rwhp at the peak, more torque at the peak and a large gain in torque between 3700 and 5400rpms.
The sound production is very loud inside and outside the vehicle. SharkWerks doesn't recommend installing on a street car, but we think differently after watching the videos below. Just do it! However, it is significantly louder than the factory exhaust or the SharkWerks 997 GT3 Bypass Exhaust System. There is a "safe" range for cruising at about 70-75mph by keeping the car in sixth gear in the 3000rpm range to be used to transport the car to and from a track.
SharkWerks Track Exhaust Dyno Run:
SharkWerks Track Exhaust in action:
For more information on the exhaust please contact SharkWerks directly and ask for Dan or Alex.
[Via TeamSpeed]