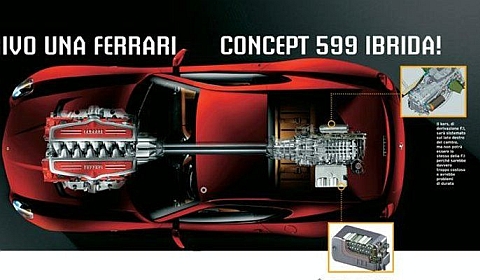 It is not just Nissan who are planning on releasing a hybrid concept, we have heard several times now from Ferrari who are also developing their own version for future models. The latest rumours suggest that the Italian firm plan on releasing a 599 based hybrid concept at the 2010 Geneva Auto Salon.
The rumours are sourced from a January issue of Quattroruote, the Italian car magazine. The pictures you see above apparently outline what the cars powertrain is likely to look like.
It's probable that the car will use an electric motor and lithium-ion batteries mounted side-by-side at the rear of the car. These will supplement the petrol V12 we see in the 599 at the moment. Other systems such as KERS regenerative braking, stop start technology and electronic boost will allow for a 35% cut in fuel consumption.
We will be at the Geneva Auto Salon to keep you informed on anything that might be released.
[Via Autoblog.com]