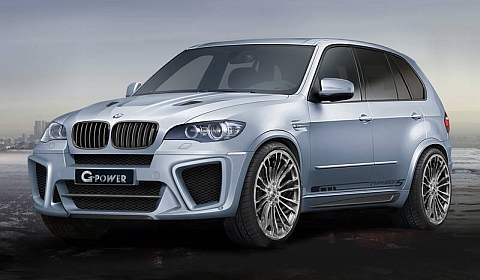 G-Power is one of our favourite tuners. Whenever they present something you can generally count on it being top class, very powerful and pretty good looking as well! They have just released their take on the bonkers X5M and we have got a few pictures and specs to share with you.
To start with, there are a few small mechanical changes centered around releasing the 4.4 liter Biturbo engine from its limiter. As a result of tinkering with the ECU, G-Power managed to increase the peak power to a considerable 600bhp. 0-62mph (100km/h) takes just 4.5 seconds with the SUV finally topping out at a staggering 186mph.
The improved G-Power Typhoon S bodykit generates greater cooling through the use of larger air inlets and outlets. G-Power claims that cooling is 15% more effective after changing the Typhoon S kit. A new carbon fiber rear spoiler and diffuser help finish the rear of the car and blend perfectly with the stainless steel pipes.
The alloy set on the X5M are G-Power's own Silverstone Edition alloys in sizes 11×23 and 12×23 inches. Michellin is the chosen high performance tyre brand.
Whilst G-Power themselves appear to question the usefulness of the X5M as an "off-road car", it is hard not to be impressed when you see a SUV that can travel this fast!