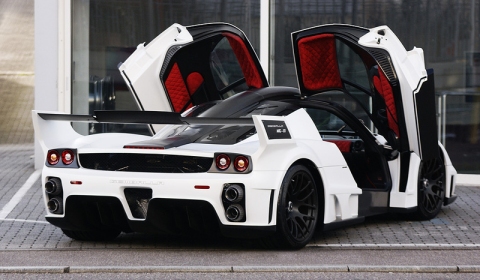 Gemballa has unveiled their interpretation of a tuned Ferrari Enzo. The MIG-U1 package is a limited edition model made for the Ilyas and Mustafa Galadari Group of Dubai. They are the new distributor for the Middle East.
There is not a lot of information available about the FXX-styled vehicle. The details will be released after the "invitation only" launch in Dubai.
It doesn't mean we cannot have a closer look at the design of the vehicle. First of all you will notice the Porsche Carrera GT-style exhaust tips – placed above each other instead of the stock versions next to each other. But there also a brand new paint job and a Pagani-style air intake on the top of the vehicle.
The new body kit has some special LED daytime running lights inside the lower air-intakes of the front bumper. The bonnet, side skirts and rear wing have changed dramatically and they installed new cooling air ducts on top of the front fenders.
This is just the exterior! Let's continue on the inside. Gemballa used a lot of red Alcantara with a specially stitched pattern. There is a new audio system in both doors and a massive LCD screen on top of the dashboard. The remote control for the in-car entertainment system is placed in between both seats and on top of the center console.
Shall we keep the discussion of overkill to a matter of personal taste?
[Via Teamspeed]