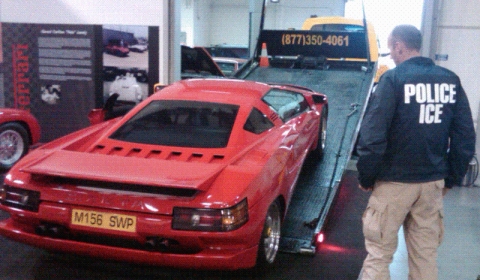 We recently received news of a very valuable seizure in California. U.S. Immigration and Customs Enforcement (ICE) agency recently confiscated a Cizeta V16 from its owner in the course of investigations for breaching U.S. customs and environmental laws.
The Cizeta V16 is probably one of the rarest Italian supercars you'll ever come across. Developed by ex-Lamborghini engineer Claudio Zampolli with financial backing Giorgio Moroder, the Cizeta production run lasted only four years (1991-1995). Only ten were made in this time, all with a V16 creating 560bhp and propelling the car to a top speed of 328km/h (204mph).
This particular owner imported his car in 2001 on the grounds that extensive work needed to be carried out by the manufacturer who had, by then, relocated to California. After applying for an extension, the car was supposed to leave the country by 2004. It seems the car has remained in California ever since, regularly being spotted at car events running on foreign plates and a manufacturer plate.
From what we understand, two issues are being investigated. The first is that of the cost of the vehicle. When it was imported authorities were told it was worth $125,000 (€87,000) when in fact, the car retailed at around $600,000 (€419,000). The second issue was the fact that the car never passed the stringent U.S. import safety regulations.
It's expected that the U.S. authorities will now push to have the car forfeited to the federal government, at which point the car will be auctioned to a foreign bidder.
[Via LATimes]