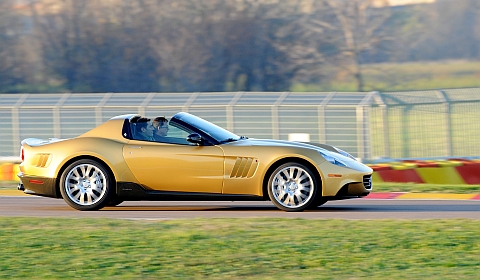 Ferrari have unveiled the one-off P540 Superfast Aperta. Built for customer, Edward Walson, the P540 Superfast Aperta represents the second example of Ferrari's coachbuild program, the first being the Fioravanti car we reported on last year. The car has been designed in collaboration with Pininfarina this time, on the base platform of the Ferrari 599 GTB.
We reported on this car back in May when a few spy shots were revealed. Back then, the car appeared to have it's basic shape and was just waiting for all it's mechanicals. From design sketches to finished car, the whole project took just 14 months.
The design breif was simple, to make a car that payed homage to the Ferrari 330 LM featured in the short film Toby Dammit. What's been produced is essentially a re-bodied Ferrari 599 weighing 20kgs more than the original. It's also the first time we've seen a topless 599 GTB.
We'll leave you to decide whether you like it or not from the photos.