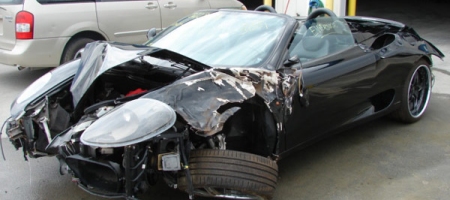 An anonymous tipster at Wrecked Exotics has unveiled the most insane exotic car killer ever recorded. A 73 year old Florida businessman is officially the "King of Wrecked Exotics" by destroying at least ten exotic cars in the last three years.
It is said that he walked away from each accident and continued to drive like a lunatic. Next to that he has partial ownership of an insurance company. It isn't clear if the cars were insured within his own company.
Only three of this wrecks are on picture, the other ones are listed below. Some examples are two Ferrari 360 Spyders one ended up into a water fountain near the entrance of his mansion (yellow), the other one was destroyed when he crashed it into a palm tree at 60 mph (black). A Ferrari F355 was crashed into the rear of a Ford F-350 Superduty while racing a Lamborghini Gallardo (red).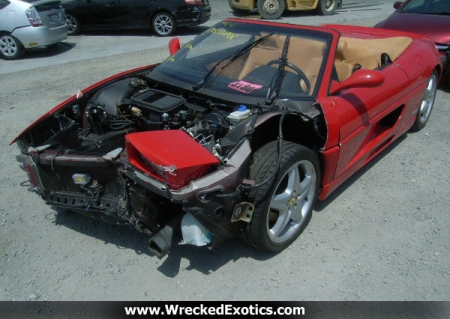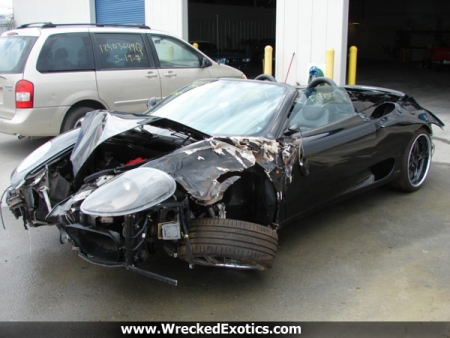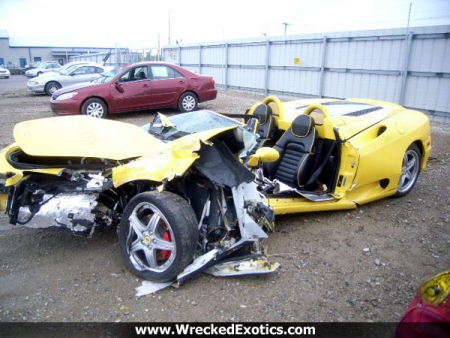 At Palm Beach International raceway he crashed a Bugatti EB110. A Ford Indigo concept car was completely destroyed – only two were ever made. A classic Ferrari Dino ended up in the same situation. A Ferrari F430 was wrecked on the track. Even a 1909 Ford Model T was wrecked. At least one of the 50 Yenko Camaros ever built was totalled by him and last but not least he also managed to shorten a few Caterhams and a Westfield sports car while driving on a track.
What a guy, what a guy…