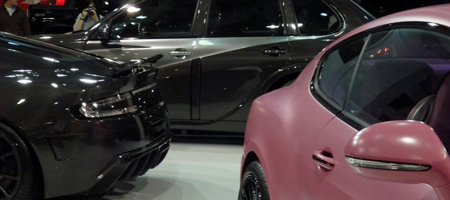 A few days ago, GTspirit vacated to the 2009 MPH show. The show itself is focused almost entirely on luxury and performance cars so, naturally, we loved it! The other bonus is that the show includes Top Gear Live, a stage show version of every petrolhead's favorite TV show.
To get to the list of cars, we counted two Bugatti Veyron's, one Koenigsegg and five Pagani Zonda's. As well as these 'hypercars' there were countless different Ferrari's, Porsche's and Lamborghini's. One of our favorite's was the carbon fibre Pagani Zonda F Roadster. Although we've a number of these before, every time we see them they just get more stunning.
Besides the manufacturers present there were also a number of tuners ranging from Mansory with one of the biggest stands, to BF Performance, represented by Lamborghini Stuttgart. Again, the carbon fibre work on the Mansory products blew us away.
As for the Top Gear Show, it was definitely worth going to see. There were moments of complete madness (think drag racing with garden equipment). The Stig defied gravity aswell by performing a loop-the-loop. We also appreciated the tribute to fast Ford's where 4 Focus RS's, fitted with trick paintwork weaved their way past each other and between the huge pyrotechnic displays.
Overall, we highly rate Top Gear Live and the MPH Show. If you want to go see it, check out their website for tour dates and prices. Bring on Season 14!