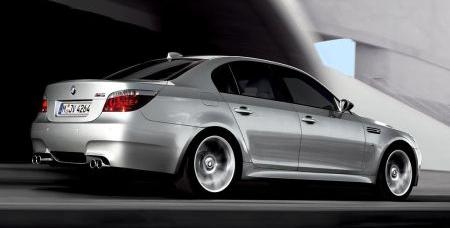 Rumours were going that BMW would drop its V10 engine, but that is now slightly invalidated because a brand new 5.5 liter V10 was recently presented at the company's Nürburgring workshop. Reason is the 25th anniversary of the M-devision. Of course each coin has a flip side, this M5 CSL will be unique!
The larger engine is created by increased stroke and other modifications such as a carbon fiber manifold, bigger air box and oil cooler. Another air duct was created on the front bumper. Because CSL stands for Coupé Sport Lightweight the M5 had to loose some weight. The engineers did this by adding a carbon fiber roof and by stripping down the interior. For instance, the M5 CSL has no long back seats and the front seats were changed into carbon fiber. Official figures for the M5 CSL's output aren't known yet, but they can be expected around 580bhp together with 542Nm of torque.
Last but not least, a word from Biermann, M division's head of development:
Right now we're concentrating on the next-generation M5. This car has been fun to develop but there are no plans for production.
Gallery: BMW M5 testmule on Nürburgring
[Via WorldCarFans]