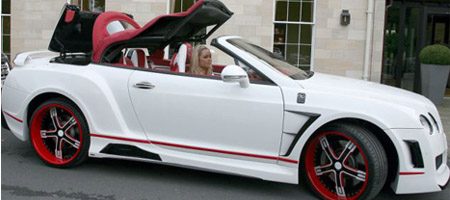 This edition of Overkill showcases Manchester City footballer Stephen Ireland's £264,000  custom Bentley Continental GTC,  birthday present to his girlfriend Jessica Lawlor.
The Bentley Continental GTC features a White paint job with red trim and roof, as well as a wide-body kit and front and rear spoilers, we're not to sure of the origin of this kit but its certainly not the prettiest kit available for the Continental GTC.
According to the Daily Mail Stephen Ireland spent £1,000 to change the Bentley insignia's to Jessica's initials JL, and £5,000 on the custom bright red lipped alloy wheels, that allows feature Jessica's initials. Another £2,000 was spent on the custom red leather seats that feature a romantic message 'To Jess Love From Stephen" to his girlfriend stitched into them inside a heart shape.
The car boasts a 6-litre, 552bhp engine with a top speed of 198mph and can go from naught to sixty in just 4.8 seconds.
This is not the first time we've featured one of  Stephen Ireland's cars in our Overkill feature. He also owns an Audi R8 in Manchester City's white and blue, which he initially bought in red and white, the colours of his team's arch rivals Manchester United. The R8 features a superman petrol cap, number 7's (his shirt number) on each alloy and a sound system where the spare wheel should be.
[Via The Daily Mail]