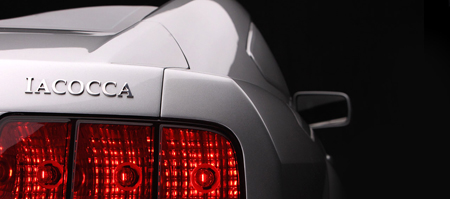 The man behind the Ford Mustang is now to gain his own special version of it's modern descendant. The Lee Iacocca Silver 45th Anniversary Mustang marks 45 years of production for the American icon. Iacocca was directly involved in the project, later on he became one of the industry's most influential figures. The Iacocca Silver 45th Anniversary Edition Mustang will only be replicated 45 times, each of the same colour and spec.
The car is a joint project between Iacocca himself, designer Michael Leone, and Gaffoglio Family Metalcrafters of California. The company will be known as 'I Legacy' and the cars will be sold through Gaplin Ford.
As for the car, think coach built 2009 mustang. Ford warranty will be given on both engines, the first is the 4.6-liter Ford V8 producing 320bhp. The second is a supercharged version that features 400bhp. Both engines will run through a short shifting 5-speed manual transmission.
A Ford Racing Handling Package adds new springs and shock absorbers. 14-inch brakes can also be included at the owners discretion.
Inside there's Ioccoca's specially designed leather embroidered seats along with a plaque and leather steering wheel.
[Via AutoBlog]