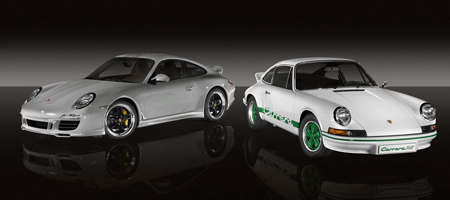 Here's a few more pictures of the limited edition 911 Sport Classic that's set to make it's debut at the IAA 2009. We first saw the car last week when we post a few pictures, details and then a video. Now we have another 31 photos to show you thanks to Carscoop.
Just to refresh your mind, the 911 Sport Classic will only be available in a limited run of 250 and will be offered to the most dedicated Porsche fanatics. Design aspects are influenced by the 1973 Carrera RS 2.7, a duck tail spoiler and double bubble roof are most evident.
Power increases in the new model, up by 23bhp to 408bhp. There's a 6-speed manual gearbox, Porsche ceramic composite brakes and 20mm lower suspension. It goes on sale in January 2010 at a price of €169,300 (£148,375).