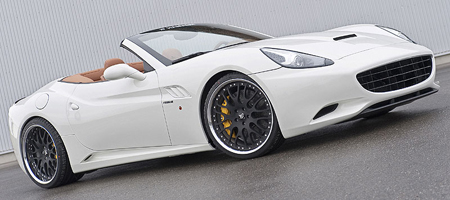 A completely new Ferrari is good enough reason for the development of a set of lightweight alloys to fit. This is obviously what Hamann thought when they saw the new Ferrari California. Being only the second company to modify the California, there's no wild expectations so Hamann have happily dialed it down a notch.
The new 21 inch alloys sit nicely in the California's wheel arches showing off the cars awesome braking power. There called 'Edition Race' and come with light weight titanium screws. The sizes stand at 9.0 J x 21 on the front and 12.5 J x 21 at the rear. For more info contact Hamann via their website.
So… Better or worse than the Edo Competition effort?