The Dutch road rally the 'Quote' Challenge has been spotted in Slovenia this weekend. This year they will have to do without one of their most loyal participants, nonetheless we still see plenty of familiar cars from previous editions.
After difficulties with the police on previous editions and other rallies like the Gumball 3000, organiser Sjoerd van Stokkum has chosen to keep a low profile with his events. Although the cars have been themed up they don't have any Challenge branding on them and the route and finish location remain a closely guarded secret. Since 2006 the rally is not sponsored by Quote Magazine anymore and is called simply the challenge. But among the participants are still a large number of Quote 500 members. The Quote 500 is a list comparable to the Forbes 500 and lists the wealthiest people in the Netherlands.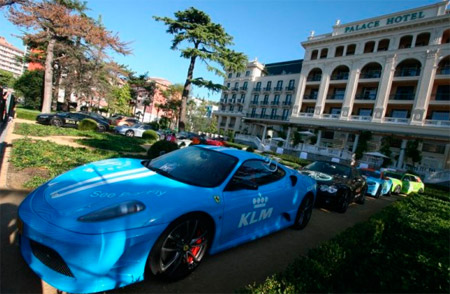 Among the participating cars of the Challenge 2009 are some very special cars and liveries, what about a Gulf Aston Martin DBS, a Lam-Bear-Ghini (that really had us laugh), Rolls-Royce Drophead, Rolls-Royce Phantom, a Penguin R8, FBI Ferrari F430 and two matt army-green wrapped Mercedes's.
Last year the Challenge went down to Portugal and Spain. This year the Challenge participants stayed over night at the Kempinski Palace Hotel in Portoroz, Slovenia. Located on the shores of the Adriatic sea and just a short distance from the Croatian border the Challenge 2009 will race through Croatia and the Balkans on the way to the finish in Rome.
For more information, photos and videos of the Challenge 2009 visit our Challenge Forum and for more photos from Slovenia visit 24ur.com. Let us know if you have more pictures or videos from the event!