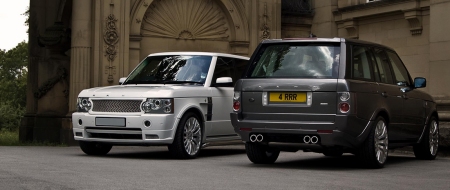 The UK tuner Project Kahn has announced its Stage 2 package for the Range Rover Vogue. With more focus on the owner, the interior is given a new touch, made to the exact requirements of the customer. The conversion includes the Kahn body kit, new exhaust and a Kahn RS-D alloy wheel package. But that is not all…
Exterior branding consists of Project Kahn oval badges placed on the front grille and rear, but also Kahn lettering on the front bumper and the lower boot panel. The interior upgrade packs components like the quilted interior including seats, door cards and dashboard trimmed to the customers' specification in the finest Nappa leather and Kahn labeled scuff plates protecting the sills of the Range Rover.
When you choose for the Stage 2 Kahn, will fit Kahn RS-D 22-inch 6-spoke wheels and Kahn valve caps to enhance the looks underneath the SUV. A stainless steel chrome polished exhaust system with machined aluminum tips is added too and emits a deep, rumbling sound according to UK tuner.
The aerodynamics styling package has four different parts; a brand new front spoiler, complete wide arch kit, a pair of side sills and a rear appron designed to contour around the Project Kahn exhaust.
To finish the whole package you get a number of accessories such as; a Project Kahn fire extinguisher, a lightweight golfing umbrella with carbon fibre shaft and a keyring, but also a high gloss piano black steering wheel, walnut steering wheel or piano black sports style steering wheel are optional available.
Prices are £69,995.00 for the Range Rover Vogue Stage 2 TDV8 and £78,995.00 for the Range Rover Vogue Stage 2 Supercharged.