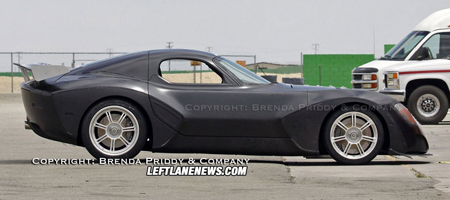 A set of spyshots showing the Devon GTX test mule on track have hit the web. They show that even though Devon Motorworks failed to secure the Viper franchise from Chrysler, the GTX project is definitely still on the cards.
It's the first time anyone's got pictures of a complete car. The pictures we showed you earlier on in the year were computer generated leaving us with the view that it may never actually make it to the showroom.
A few extra details that the pictures confirm are the use of the same style of 'Gullwing' doors as those found on the Mercedes McLaren SLR. It also confirms the shape that the company are working on, based largely on the Viper platform, it looks more or less complete.
Both company owner, Scott Devon and test driver Justin Bell both took the wheel. The car will be released at the 2009 Pebble Beach Concours in August.
[Via LeftLaneNews]