Early images we have for this Reed Speed tuned 2010 Mustang look very promising. The company are said to be aiming for a 700bhp target through a proper manual gearbox. They're working with Artisan Performance for the engine mods, a company we've seen before after the earlier news of their Camaro project.
The one picture that we have shows a sleek body kit with a variety of different air intakes. The car also has new brakes, 14-inch rotors with six-piston calipers supplied by Stainless Steel Brakes Corporation (SSBC). To house them, the alloys have also been upgraded to 20-inch iForged units measuring 11 inches wide in front and 13 inches in the rear.
The estimated 700bhp (522kW) figure is made possible through dual GTK350 turbochargers. Upgrades also include a high-flow exhaust system with a race-spec catalytic converter, a custom intercooler and wastegate plus a re-mapped ECU to gain the best out of the modifications.
The car should be made available in the US through Randal Reed Ford dealerships. No word on price yet.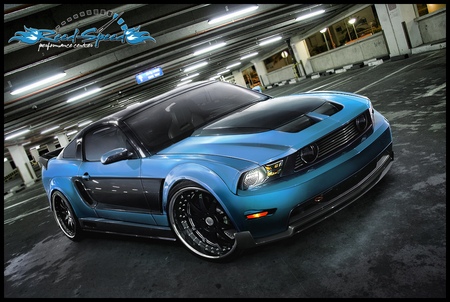 [Via AutoBlog]