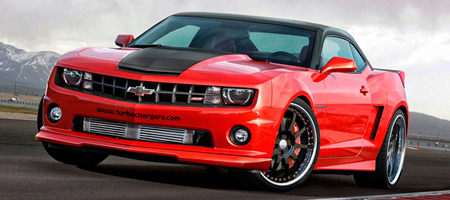 Another day, another tuned Camaro SS. Joining the ranks next to Hennessey, Lingenfelter and Fesler Moss is Artisan Performance. They've come up with a twin-turbo kit that they'll be offering in a $69,000 turn-key package, ready applied to the donor car.
The twin GTK350 turbochargers are estimated to jack the cars horsepower figure up to 600bhp. Alongside this conversion will be a high-flow exhaust system with a race-spec catalytic converter, a custom intercooler and wastegate, and an ECU upgrade.
The picture shows a very aggressive looking car. Customers can choose between 21 inch and 22 inch wheels and they gain a new set of brakes.
It'll be produced in conjunction with turbochargers.com and will join the production line alongside the ISF that the company currently produce.
[Via MotorAuthority]