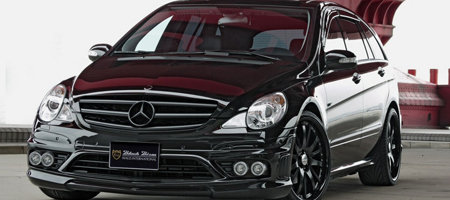 The 'Black Bison' range from Japanese tuner Wald International keeps growing. Sucking in models from Bentley, Lexus, Nissan, BMW and Mercedes, their current product range could be said to be very wide indeed. The latest announcement sees the company turn their focus towards something a little bigger than what we've seen before. The underachieving Mercedes R-Class.
The Mercedes People carrier has been on the market for the best part of three years meaning that it's probably in need of a minor face lift to keep it looking fresh. Additions in this kit include both a front and rear spoiler coupled with a side skirt and rear diffuser. Also featured is a new exhaust, blacked-out badges as well as a blacked-out grille and a new set of glossy black alloys.
Lower suspension completes the sportier look. We're not sure about the added wind deflectors though! The kit appears to be available on all R-Class models, were not 100% certain however as we don't have too much information on the kit.
It's probably best suited to those who want to show off on the school run.