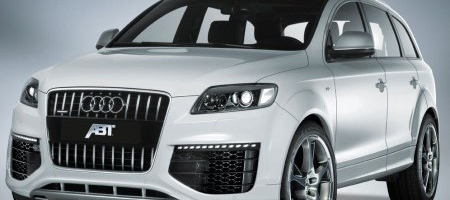 Audi's 6.0 Litre V12 TDI engine may have been dropped from development in the R8 but we must remember that it has made it to Audi's flagship Q7. As a commemoration of the companies (now broken) back wins at Le Mans, the car was released with the V12 TDI making it the most powerful diesel engine used in a series car. It was only a matter of time before companies like ABT managed to get their hands on it!
On the companies website they joke about how the cars figures aren't to be mistaken with a move into the market for heavy truck engines. No wonder when you read that this beast features 560bhp and a staggering 1200Nm of torque. That's only 50Nm short of the Bugatti Veyron's 2250Nm of torque!
The laws of physics restrain the car from reaching 100km/h (62mph) in any less than 5.3 seconds. Top speed is most likely limited by aerodynamics to 258km/h (160mph). Also featured are a few aesthetic tweaks including a styling kit and a new set of alloys. No word on price although we suspect that only an ECu rework and a new exhaust is needed for this tune-up. Expect less rather than more!