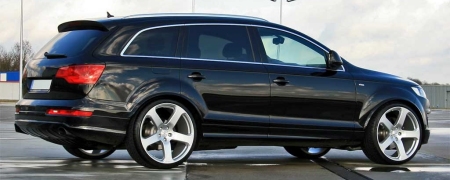 The Audi Q7 is better known as a Sport Utility Vehicle and the counterpart for all those estate and saloon cars Audi offers. Nevertheless there is still potential for modifications. AVUS Performance has added some mods and used the 4.2L TDI as their basis.
The car has air suspension and some other gimmicks. They added an electronic lowering module it can be lowered up to 90mm and 23 inch wheels in silver, titanium (or every other color for an extra fee) combined with custom made wheel spacers.
To give it some extra power the 4.2L TDI ECU got a new software which boosts the Q7 from a stock 326bhp to 365bhp. Torque increases from 760NM to 880NM. Being modified the Audi now sprints from 0-62mph in 6.0s (with 23 inch wheels) and reaches a top speed of 245kmh.
Furthermore modifications are the painted front grill cover, the eyelids and the new rear tips. The red taillights and led daytime running lights are combined with a dimming function. To top the package off a tv-activation and additional monitors for the headrests are available also.
[Via Autoblog.nl]