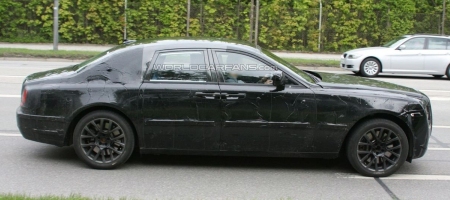 Our friends from WorldCarFans have received some new spyshots of the newly developed baby Rolls-Royce. The less covered car looks almost identical to the 200EX Concept we say at the Geneva Motor Show. The test mule gives us a clear view on the front, door handles and taillights.
The Ghost will feature a 6.6liter twin-turbo V12 engine with 544hp and 750Nm of torque. Linked to a eight-speed ZF automatic transmission it will ensure a pleasant ride. The massive size of the car contradicts the saying "baby" Rolls-Royce. It is 5399mm (212.6 inches) in length, 3295mm (129.7 inches) in wheelbase, 1948mm (76.7 inches) in width and 1550mm (61 inches) in height.
Official release will be at the IAA in Frankfurt. Production starts at the end of this year. Price tag begins at around £180,000 (US$257,000).