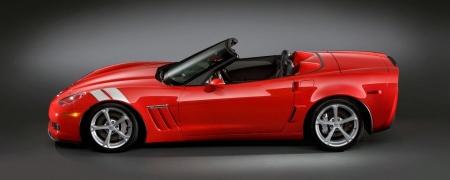 Chevrolet has announced the new 2010 Corvette Grand Sport at the 12th annual C5/C6 Corvette Birthday Bash, held at the National Corvette Museum in the US. The Grand Sport is based on the LS3 powertrain and has a wide-body styling and racetrack-bred suspension. It will be offered in both coupe and convertible versions.
You can get the new version with either a six-speed manual or six-speed automatic transmission. The LS3 6.2L engine is rated at 430hp (321kW) and 424lb.-ft. of torque (575Nm) with the standard exhaust system. An optional two-mode exhaust system elevates the power ratings to 436hp (325kW) and 428lb.-ft. (580Nm). A 0.2-second improvement in 0-60 acceleration vs. the standard LS3-powered models has been achieved.
The Grand Sport replaces the previous Z51 package and brings a greater degree of handling performance, with wider wheels and tires; revised shock, stabilizer bar, spring specifications and specific gearing. The equipment enables cornering capabilities up to 1.0g.
Grand Sport coupe models equipped with the manual transmission are outfitted for racetrack competition. This package consists of a dry-sump oiling system, differential cooler and a rear-mounted battery.
Next to these changes Chevrolet added wider front and rear fenders with integrated Grand Sport badges, a Z06-style front splitter and tall rear spoiler, functional brake ducts and extra cooling for the Z06-size brakes which include 14-inch (355mm) front rotors with six-piston calipers and 13.4-inch (340mm) rear rotors with four-piston calipers. The car is fitted with 18-inch front (275/35ZR18) and 19-inch wheels at the rear (325/30ZR19). Both have a painted finish standard and chrome finish optional.
All of Corvette's exterior colors are offered on the Grand Sport. A heritage package is also available containing front fender hash marks offered in four colors, as well as two-tone seats with Grand Sport embroidery. The Grand Sport can be ordered with 1LT, 2LT, 3LT and 4LT trim packages, too.
[Via WorldCarFans]