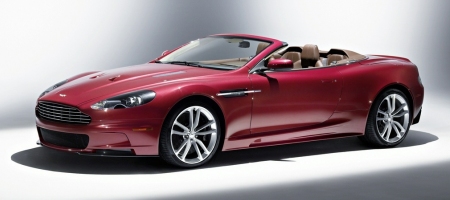 Aston Martin has premiered their new DBS Volante at the Geneva Auto Salon 2009. The new Volante completes the DBS line-up and gives drivers the mix between the English sports car characteristics and open-air motoring.
Aston Martin engineers installed a fabric hood which closely follows the silhouette of the DBS coupe and due to its lightweight minimises overall weight. It is fully retractable in only 14 seconds and at up to speeds of 30 mph (48 km/h), the roof will be automatically stowed away.
Aston Martin's hand-built 6.0-litre V12 engine produces 510 bhp (380 kW / 517 PS) and 570 Nm (420 lb ft) of torque with a top speed of 191 mph (307 km/h) and 0-62 mph (0-100 km/h) time of 4.3 seconds.
The 2+2 seating has two occasional rear seats, ideal for young people or extra luggage. The DBS has a rear-mounted six-speed manual gearbox. An automatic six-speed 'Touchtronic' is available if neccessary. The Volante can be equipped with carbon ceramic brakes. Reduction of weight has been accomplished by installing a bonnet, front wings and boot lid made from carbon fibre.
The DBS Volante also comes with Bang & Olufsen's renowned 'BeoSound DBS' in-car entertainment system fitted with 13 speakers. The system is specifically tuned for the Volante. When it senses the roof has been retracted, it will adjust the sound stage to compensate for extra wind noise.