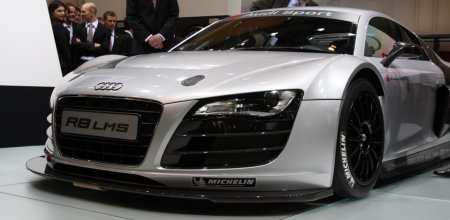 As you all may know the Essen motorshow is all about tuning and pimping cars. Which isn't the complete deal. Car manufacturers like Volkswagen, Seat and Audi show their latest line-up of regular cars with enhanced engines, interior packages and exterior trim.
The most important part of the show was the introduction of the customer race version of the well-known Audi R8. The official name of the new GT3-spec racing car is R8 LMS, named after the Le Mans Series – one of the four major championships Audi won this year.
If you are willing to spend around 260.000 euros (excluding taxes), a track-ready R8 is yours. Its mid-mounted V10 produces more than 500 bhp and more than 500 NM. If you as manufacturer want to compete in a GT3-championship, you need to have a street legal version of your racing car. This means that after the R8 LMS introduction a V10 version of the "standard" R8 is rather close by.
The new R8 LMS will be available in the Autumn of 2009. Wanna know what it is capable off?
Audi R15 TDI – new LMP1 racing car
During the introduction of the GT3-spec R8 Audi unveiled their racing plans for the coming year 2009. Dr Wolfgang Ullrich, Audi's motorsport boss confirmed the replacement of the current R10 TDI LMP1 with a new model. The R10 won the Le Mans 24 hours in the past three years and will now be replaced by the R15 TDI.
Audi showed us a sneak preview of the new car. They claimed it will have a smaller, lighter and more efficient TDI engine. It will still be open-topped racing car. The official release is planned the beginning of next year. Its first appearance will be during the Sebring 12 Hours in March.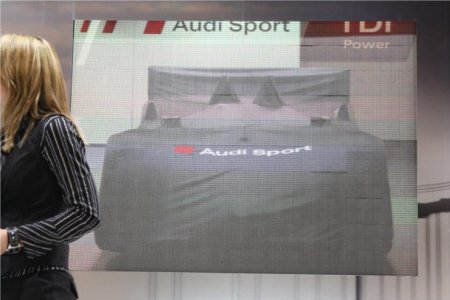 More news and photos from Essen can be found in our Essen Motorshow 2008 channel!