German Car Forum has uncovered pictures of what looks to be a completed BMW M8 Coupe sitting in a warehouse. It is not clear why the car was uncovered, where the photos were taken or who the photographer was. Yet we get a sneak peak at what BMW will reveal when they officially take the covers off next year.
The leaked images, evidently taken on a smartphone, show a car which wears badging identifying it as the "M8 Competition". We need only look at what BMW have put out with the new M5 to understand what the additional badge means. BMW originally released a standard version of the M5, following it up with a Competition Package six months later. The Competition Package added additional power and special options.
The car in the photos shows carbon surrounds for the front air intakes together with a new spoiler lip. The dual bars on the grille have replaced the single units fitted to the M850i. The black detailing is part of the Competition Package. The side air vent has been replaced with an M8 specific side gills and the side sills are also M8 specific.
The rear bumper adds a redesigned carbon fibre rear diffuser. The massive fake tailpipes have gone and are replaced by a set of quad tailpipes. The bootlid also gets a lip spoiler with a carbon finish. As has become characteristic with M power vehicles, the carbon fibre roof panel is clearly visible. The final details the photos reveal are the complex, multi-spoke rims.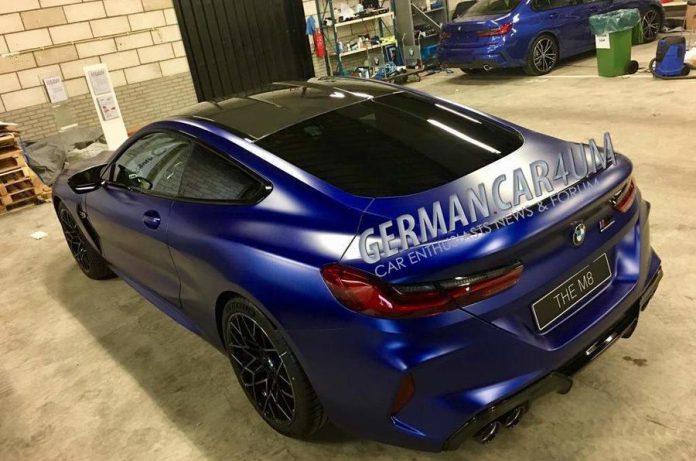 BMW will almost certainly use its 4.0 litre, twin turbocharged V8 within the M8. It is widely expected to come equipped with power levels identical to the BMW M5. This means that the M8 will likely get 600 hp while the competition package should be good for 625 hp. We will bring you official information once it is known.