Last week, Novitec released an addition to its popular N-Largo series of bodykits. The Novitec McLaren 720S N-Largo gets the iconic wide body treatment that characterises the company's previous Ferrari 488 GTB and Ferrari F12 bodykits. The F12 N-Largo was very popular so Novitec will be hoping that the 720S version receives the same reception!
The new Novitec McLaren 720S N-Largo will be limited to just 15 examples. The conversion adds an additional six centimetres of width to the front and thirteen to the rear of the McLaren 720S. Novitec have worked with Vittorio Strosek, founder of the legendary Strosek Design, who has consulted on how the Novitec conversion can shed weight.
Novitec's body panels are built from carbon fibre. What is clear from looking at the photos is the inspiration Novitec draw from the McLaren Senna. The kit consists of front and rear fender replacements with mount to the original chassis bolts. Novitec have increased the size of the fender wells to accommodate the new 21 inch wheels.
Novitec McLaren 720S N-Largo
New side panels have been installed with integrated vents that route air into the rear brakes. The new front facia is what reminds us of the McLaren senna the most. The front splitter and air intakes have been modified so that they resemble the hypercar. Yet it is the deep bonnet scoops which help the most with emulating the Senna's looks.
At the rear, Novitec have installed a larger rear spoiler. Wisely, they haven't messed around with the placement of the exhaust. The hottest McLaren's have received a hood mounted exhaust system, Novitec have merely replaced the existing system with a version of their own. The tailpipes measure 95 millimetres and come finished in polished or matte black stainless steel. An inconel version is also available.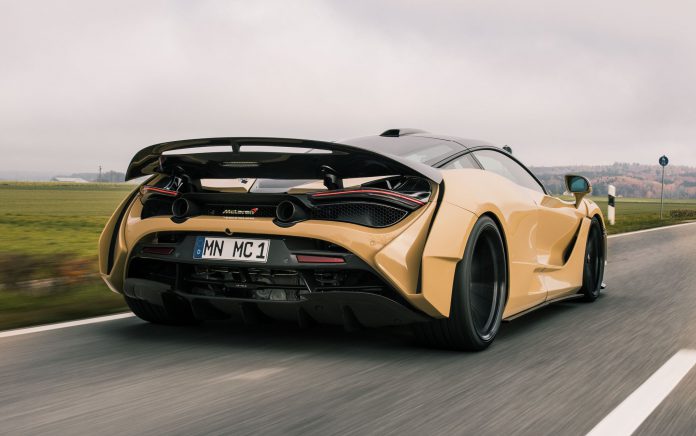 The Novitec N-Largo continues to be powered by the McLaren 4.0 litre V8 engine. Novitec have applied some performance enhancements which ensure that the output is boosted to 806 hp and 878 Nm of torque. The power is released through a plug-and-play ECU module. It now sprints to 100 km/h in just under 2.7 seconds with the 200 km/h mark breached in 7.5 seconds. Top speed is 346 km/h.
The Novitec McLaren 720S N-Largo rides 35 millimetres lower to the ground thanks to a set of sport springs. Novitec can also handle personalisation of the interior to any specification!
As far as we are aware, McLaren 720S owners currently have two choices when it comes to aerodynamics. Novitec's N-Largo kit is one of the more complete, we also saw the Mansory 720S earlier this year at the Geneva Motor Show 2018. We believe two other options are in the works, one from Vorsteiner, the other from DMC. With these options, which would you prefer for your car?