The new Mercedes-AMG GT R PRO has been officially announced at the Los Angeles Motor Show 2018. The two seater will serve as the GT for the race track, taking lessons learned by Mercedes-AMG through its customer racing programs in GT3 and GT4 and applying them to a barely road-legal track day tool.
The official release of the GT R PRO model coincides with the release of facelift AMG GT's. With four years in the market, it was about time for a fresh look. The AMG GT gets light clusters that closely resemble the four door coupe launched earlier this year. The cars also get new rear diffusers with tailpipes to resemble the four door, the GT and GT S get new sill covers and new alloy wheel options are also available.
2019 Mercedes-AMG GT R PRO
The AMG GT retains the 4.0 litre AMG V8 throughout the range. In the standard GT it now produces 476 hp, in the GT S it is boosted to 522 hp, the GT C gets 557 hp and the GT R a healthy 585 hp. On all models, the AMG Dynamics program is increased to add more adjustability to the ESP programs. In conjunction with the normal drive programs, AMG now offers four new settings, 'basic', 'advanced', 'pro' and 'master'.
Inside, The AMG GT gets a new AMG Performance steering wheel and the centre console and display buttons from the AMG GT 4-Door Coupé. The dashboard is now fully digital with a 12.3-inch instrument cluster and a 10.25-inch multimedia display on the centre console.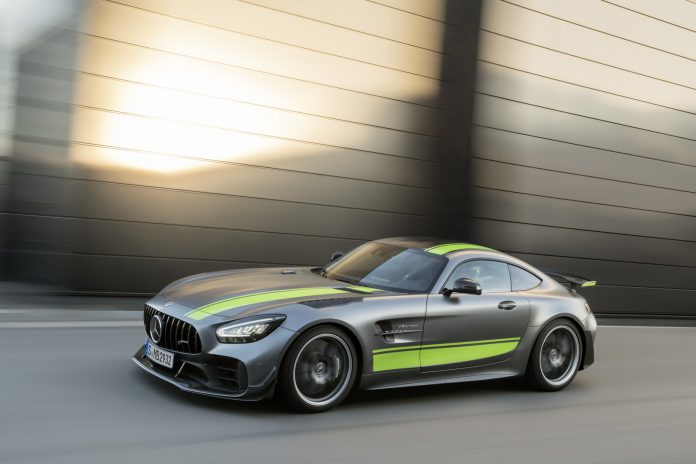 The new PRO shares its powertrain with the AMG GT R. It differs in what it offers for the suspension, aerodynamics and weight reduction packages. The PRO gets a new coilover suspension system which can be mechanically adjusted by the driver depending on the circuit they are driving. The front axel gets an adjustable carbon fibre torsion bar, the rear steel unit is also adjustable. Dynamic engine and transmission mounts have been retuned specifically for the PRO.
Cars delivered outside of the Chinese, US and Canadian markets will get the option of a track pack. This adds roll over protection, a four point safety harness and a 2 kg fire extinguisher. Ceramic brakes are fitted as standard in the PRO as well as AMG bucket seats. Aerodynamics are taken care of with a variety of unique carbon fibre pieces. These include two front flicks, a larger front splitter, a larger rear diffuser and rear air vents.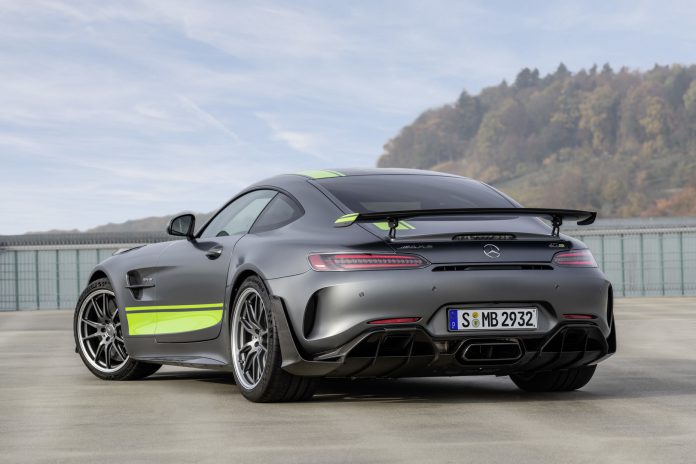 While there are no Nurburgring records to report, Mercedes-AMG have confirmed that Maro Engel completed a circuit of the North Loop in exactly 7.04.632 minutes. An impressive time for the front engined GT R PRO!