It's that time again, the ultimate sports car has been reborn – meet the eighth generation – the 2020 Porsche 911 992 which has just been unveiled to the world's media at the Porsche Experience Centre California a night before the LA Motor Show 2019 opens.
The headlines are the performance, styling and interior, so essentially everything. Both 911 models can accelerate from zero to 62 mph in under four seconds: the rear-wheel-drive Coupé can achieve this benchmark in 3.7 seconds and the 911 Carrera 4S with all-wheel drive in 3.6 seconds.
This makes both cars 0.4 seconds faster than the previous model in each case. This advantage is increased by a further 0.2 seconds with the optional Sport Chrono Package. That means the Carrera 4S will hit 100km/h in just 3.4 seconds, that is mighty, how fast will the GT products be!
The styling – ahh yes, it is still, as ever, an evolution not a revolution and this is by no means something to be frowned upon. Things are more curvaceous, smooth and well integrated into rest of the Porsche family with the LED light sabre defining the rear end. The narrow body is no more, now all 911s with be blessed with the widebody Turbo hips.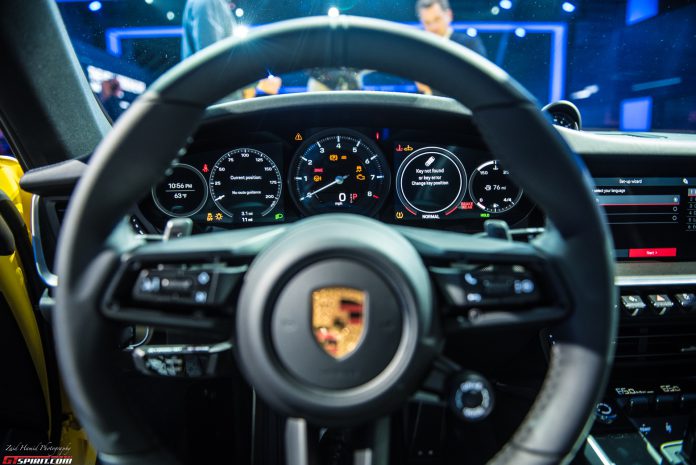 Inside things are a little more modern. The all analogue dials are a thing of the past, the single physicals rev counter needle is all that remains, the rest is all modern Porsche with the 10.9 inch touch display dominating the cabin.
This is just the start of the 992 family and it is a very welcome one indeed. This is the most advanced, fast and sophisticated 911 yet. This generation promises to deliver what enthusiasts have grown to know and love for decades with the creature comforts that we have come to expect from cars of this day and age. We cannot wait to get the behind the wheel!