Less than a year since the charismatic ex-Lambo CEO Stephan Winkelmann took over at the helm of Bugatti we can witness his influence for the first time. At the heart of Paris surrounded by luxury hotels and upmarket boutiques Bugatti celebrated the European premiere of the Bugatti Divo. It is an extremely limited road legal new Bugatti model costing 5 million euros excluding tax.
The project was initiated by Winkelmann at the beginning of this year and aimed to create a more agile version of the Chiron. Hinted at the coachbuild history of Bugatti's past its production is limited and comes on top of the 500 Chirons already being built over the course of eight years. The Divo shown to us in Paris is the first prototype. Production of the first customer Divo will begin late 2019 and all 40 will be delivered over the course of two years in 2020 and 2021.
The Divo has the same 8.0 liter W16 engine as the Chiron also producing 1,500hp. But the focus is on handling therefore the weight has been reduced by 35 kg and the downforce increased by 90 kg. The top speed is limited to 380 km/h compared to the 420 km/h of the Chiron. The removal of the top speed mode allowed Bugatti to increase the camber and lateral acceleration significantly up to 1.6 g. It is up to 8 seconds a lap faster on the handling track in Nardo.
The obvious changes include a radical new exterior styling moving away from Bugatti's timeless elegance to a more Lamborghini-like appearance that expresses speed even when the Divo is standing still. The widened fixed rear wing and extended diffuser along with the unique three dimensional rear LED lights give the Divo a very different visual appearance.
Bugatti Divo - Paris Motor Show 2018
Photos by David Kaiser
Inside the changes compared to the Chiron are not quite as significant as on the outside. But one great new option is the ability to create a real two-tone interior finishing the driver and co-driver side in different colors. True to the Veyron and Chiron interior designs the Divo interior is among the most timeless on the market today.
The new Bugatti is named after Albert Divo, a French racing driver who was a two-time winner of the famous Targa Florio race on the mountainous roads of Sicily with Bugatti in the late 1920s. Bugatti is blessed that many of it's former employees and drivers had great names which can be used today.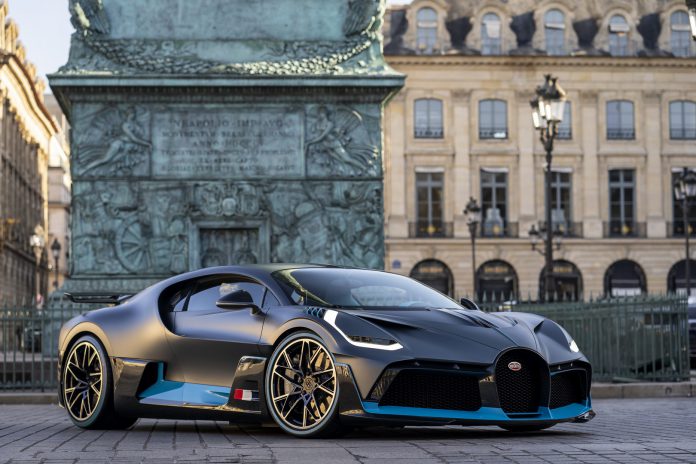 The Bugatti Veyron was never keen on tight corners but with the arrival of the Chiron it already improved a lot and the Divo is promising to take the Bugatti brand to yet another level of driving dynamics. The only bad news is all have already been sold.